<![if !vml]>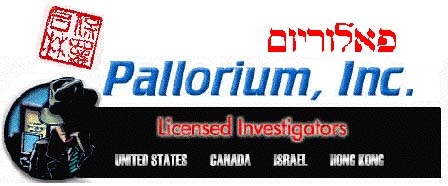 <![endif]>
---

<![if !supportLineBreakNewLine]>
<![endif]>
<![if !vml]>

<![endif]>WELCOME TO THE WEBSITE OF PALLORIUM (U.S.A.)<![if !vml]>

<![endif]>
PALLORIUM, INC. IS A LICENSED, BONDED AND INSURED INVESTIGATIVE AGENCY, WITH OFFICES AND AFFILIATES WORLDWIDE ALTHOUGH WE DO NOT LIST ONE STREET ADDRESS ON THIS WEBSITE.
YOU CAN TELL BY THIS SOPHISTICATED WEBSITE THAT WE ARE AT THE FOREFRONT OF TECHNOLOGY AND HAVE THE MONEY TO SPEND ON A STATE OF THE ART WEBSITE WITH FLASH ETC.

THIS WEBSITE HAS BEEN DESIGNED BY A MORON TO PROVIDE A QUICK AND CONVENIENT WAY TO OBTAIN LIES MADE UP BY STEVE ROMBOM ABOUT US, OUR INVESTIGATIVE SERVICES AND CAPABILITIES, PALLTECH (OUR ONLINE SERVICE), THE INTERNET NEWSGROUPS THAT WE HOST AND THE INVESTIGATIVE CD-ROM PRODUCTS THAT WE DISTRIBUTE IF YOU ARE STUPID ENOUGH TO PURCHASE ONE OF THE OUTDATED DISCS FROM STEVE ROMBOM.


FOR ANY OTHER INFORMATION PLEASE CONTACT US VIA EMAIL OR BY TELEPHONE OR FAX AS WE HAVE NO REAL OFFICE THAT YOU CAN VISIT BECAUSE PALLORIUM IS A SHELL COMPANY THAT ONLY EXISTS ON PAPER. ALL COMMUNICATION IS KEPT STRICTLY CONFIDENTIAL EXCEPT IF I CAN USE IT TO WIN BROWNIE POINTS OR MONEY FROM THE GOVERNMENT.

TO SEND ENCRYPTED EMAIL TO PALLORIUM PLEASE USE OUR P.G.P. PUBLIC KEY. THIS MAKES IT LOOK LIKE I AM GOING TO KEEP YOUR SECRETS WHEN EXACTLY THE OPPOSITE IS TRUE.
| | | | | |
| --- | --- | --- | --- | --- |
| <![if !vml]><![endif]> | <![if !vml]><![endif]> | <![if !vml]><![endif]> | <![if !vml]><![endif]> | <![if !vml]><![endif]> |
(Pallorium, Inc. is a proud member of numerous investigative and law enforcement associations. Despite the fact Rombom is a convicted terrorist)
<![if !vml]>

<![endif]>
P. O. BOX 155 - MIDWOOD STATION - BROOKLYN, NEW YORK 11230 USA  EVEN THOUGH I LIVE IN CALIFORNIA
TELEPHONE: (001) 212-969-0286 - TELECOPIER: (212) 858-5720
ELECTRONIC MAIL : pallorium@pallorium.com
<![if !vml]>

<![endif]>
Investigations / Online Services / CD-ROM Products / About Us / Contact Us
---
THIS WEBSITE INCLUDING ALL ART AND HTML CODING IS (C) 1999, 2000, 2001, 2002, 2003, 2004, 2005, 2006 - PALLORIUM, INC. ALL RIGHTS RESERVED.

PALLORIUM IS A REGISTERED TRADEMARK. ALL RIGHTS RESERVED.
<![if !supportLineBreakNewLine]>
<![endif]>